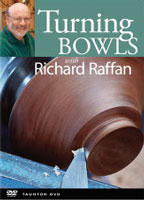 The worlds pre-eminent woodturning teacher provides everything you need to know to turn bowls. Richard Raffan draws upon his 30 plus years of experience to lead you through the key elements -- from planning to completion.

With the help of detailed text and step-by-step photos, Raffan covers wood and tool selection, design advice, surface embellishment and finishing techniques. For the more experienced turners, there are chapters on advanced techniques, decoration, and form and balance. You'll also find extensive appendices, troubleshooting charts and advice on selling bowls. Perhaps best of all, Raffans contagious respect for the craft comes through on each page, and it will stir you to do your best work.

Turning Bowls gives you:
thorough coverage of tools, wood selection and design

advice on how to avoid and solve common turning problems

information that ranges from the basic to the advanced

expert-level instruction in an easy-to-understand format


| | | | |
| --- | --- | --- | --- |
| No. | Description | Price | Quantity |
| 1870 | Turning Bowls by Richard Raffan - DVD | $15.99 | |

Most woodturners have children in their lives who would appreciate a hand-turned toy (or several). The projects in Turning Toys can serve as a base for almost limitless variation, so you can put your own stamp on each object you create. Repetition is the key to mastering any craft, so these projects are in part skill-builders that you can repeat and thereby hone your turning techniques. You can get plenty of practice when small kids can't have too many peg dolls, things on wheels, or arches for creating buildings, farmyards, and so on. You'll see ways of salvaging a situation when things go wrong, as they inevitably do when you have a catch or the wood splits. Disasters become design opportunities. The video will show you what to do, step-by-step; you'll see exactly how the tools are used, how the cutting edge should relate to the surface you're cutting, and how to stand to support and hold the tools so that working at your lathe is a comfortable and pleasurable activity.

| Item# | Description | Price | Quantity |
| --- | --- | --- | --- |
| 11428 | Turning Toys with Richard Raffan Multimedia DVD | $17.95 | |








Expert box-turning techniques

Internationally acclaimed woodturner Richard Raffan demonstrates how to make turned boxes with suction-fit lids in this 55-minute video.

Raffan reveals the tricks you need to know when turning boxes and shows you step-by-step how to make three challenging types. You'll learn how to:


make a perfect suction-fit lid
manipulate skew chisels and parting tools
turn decorative top knots and finials
back-hollow and chuck
fix cracks and splits
recover from mistakes
sand and apply a wax finish

| | | | |
| --- | --- | --- | --- |
| No. | Description | Price | Quantity |
| A1876 | Turning Boxes by Richard Raffan - DVD | $15.99 | |



Facework, Centerwork, and Working End Grain

There's no end to the splendid variety of useful objects you can turn once you see Richard Raffan at his lathe.

In this tape, you'll learn to select the wood species best suited for a wide variety of turning projects. Raffan shows you how to manipulate skews, gouges and parting tools to produce the whole repertoire of wood-turning cuts, and how to recognize the structural aspects of a project as it develops on the lathe. Raffan also shows you how to sand and apply finishes and waxes, and he offers important safety tips throughout the tape.

Among the projects Raffan shows you how to turn are hollow vessels, bottle coasters, spatulas, mallets, small bowls, and beads.

| | | | |
| --- | --- | --- | --- |
| No. | Description | Price | Quantity |
| 1877 | Turning Projects by Richard Raffan - DVD | $15.99 | |



Learn woodturning by looking over the shoulder of a master turner, Richard Raffan, as he demonstrates the moves that are so important to skillful woodturning as he leads you through six useful projects. You'll learn techniques of sharpening, stance and movement, gouge exercises, skew exercises, centerwork and facework techniques. Includes projects: tool handle; light-pull knob; scoop; box; breadboard; bowl. 114 minutes.

| | | | |
| --- | --- | --- | --- |
| No. | Description | Price | Quantity |
| 1878 | Turning Wood by Richard Raffan - DVD | $15.99 | |



An Introduction to Turning Beautiful Bowls and Plates


Del Stubbs shows you how to turn beautiful bowls and plates. You can start with dry lumber or with green wood you cut yourself. The camera zooms in close to see the careful contact of edge on wood and then moves back so you can study various tool positions, grips and stances.
You will learn about:

cutting tool types and modification of standard tools

grinding and honing chisels

gripping various turning tools

mounting bowl blanks and roughing out the shape

modifying a standard lathe

controlling warp in the thin wall of a bowl

cutting into end grain

designing bowl forms

| | | | |
| --- | --- | --- | --- |
| No. | Description | Price | Quantity |
| A1880 | Bowl Turning by Del Stubbs - DVD | $15.99 | |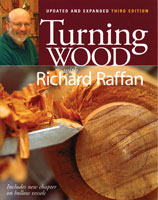 With lots of new techniques and up-to-date information on sharpening and using tools, here's the most comprehensive woodturning video now available.
In this updated version of the world's most popular turning video, you'll discover new insights, tips, and advice from Richard Raffan, the acknowledged master of this subtle art.
Whether you're just getting started or a veteran refining your skills, it's all here -- from the basics to the more sophisticated concepts -- simplified and demonstrated by the ultimate teacher.
Here's the very latest insights and advice from Richard Raffan in the newly updated version of his popular video, Turning Wood. Whatever your skill level, you'll discover valuable new information here -- plus all the tried and true advice that made the original an international best seller.
In your one-to-one seminar with this woodturning guru, you'll learn all the moves that are so important to skillful woodturning. Raffan leads you through a range of useful projects from his companion book, Turning Wood with Richard Raffan.
You'll see for yourself how to master the essential techniques.
Sharpening

Stance and movement

Gouge exercises

Skew exercises

Centerwork techniques

Facework techniques
And you'll see how a pro tackles the following projects.
Tool handle

Table leg

Drawer knob

Egg

Pencil Pot

Scoop

Tray

Standard bowl
| | | | |
| --- | --- | --- | --- |
| No. | Description | Price | Quantity |
| 1884 | The New Turning Wood by Richard Raffan - DVD | $15.99 | |




If you have ever wondered how that little gem of an oval picture frame or beautiful oval dish was made, speculate no more. With Elliptical Turning - An Introduction, you will learn turning techniques to create your own stunning pieces.

David Springett, the master of the seemingly inexplicable, demonstrates in detail how to create an oval frame with a molded edge. With practice, the easy-to-master techniques will lead you to the creation of superb elliptical frames, dishes, and boxes. You'll learn how to build a simple homemade chuck to fit your lathe, enabling you to turn these fascinating pieces. Marvel at the intricacy of Springett's work and study Elliptical Turning - An Introduction, and soon friends will marvel at your work too!

David has been a professional woodturner for more than 20 years. His other instructional DVD's on woodturning include Woodturning Wizardry.


| | | | |
| --- | --- | --- | --- |
| No. | Description | Price | Quantity |
| 3520 | Elliptical Turning: An Introduction by David Springett - DVD | $23.99 | |



Spheres within spheres, stars within cubes, delicate lattices with no apparent means of support - woodturners over the centuries have developed a whole range of extraordinary structures which seem at first sight to be quite impossible. In fact, all of these things can be made by anyhone with basic woodturning skills, an ordinary lathe and simple hand tools - and this book shows you how.

A best-seller when first published in 1993, the book has been thoroughly revised for this new edition, with color photography throughout. Stunning new 3-D illustrations show cutaway views of the work in progress, making the instructions even easier to follow than before.

Projects described in detail include:
- Arrow through bottle
- Lattice-lidded boxes
- Lattice pomander
- Sinapore ball
- Spiked star in sphere or cube
- Captive cube in sphere
- Lidded box in sphere
- Chinese balls
- Chinese rings
- Pierced sphere
- Interlocking spheres

Introductory chapters describe the equipment required - much of which you can make yourself - and give advice on wood selection, setting out the work, and turning the basic shapes.

A former woodwork teacher, David Springett has been a professional turner for more than 20 years now. Specializing at first in lace bobbins, he became increasingly attracted to more experimental work, such as the seemingly impossible pieces described here. He is also the author of Adventures in Woodturning.

| | | | |
| --- | --- | --- | --- |
| No. | Description | Price | Quantity |
| 3521 | Woodturning Wizardry by David Springett - DVD | $23.99 | |



Following the outstanding success of Keith Rowley's book comes the companion DVD, Woodturning - A Foundation Course.

Designed to improve your turning, Woodturning - A Foundation Course provides all of the basic turning techniques and practices in detailed step-by-step demonstrations you can follow along with.

Topics Include:

*Suitable timber and tool selection
*Demonstration of turning between centers of faceplate and copy turning
*Sanding and fine finishing
*How to maintain the ultimate edge on your woodturning tools.


| | | | |
| --- | --- | --- | --- |
| No. | Description | Price | Quantity |
| 3523 | Woodturning: A Foundation Course by Keith Rowley - DVD | $18.99 | |



With a worldwide reputation as an acknowledged master of woodturning, and work in several permanent museum collections, John Jordan has traveled much of his life to share his extraordinary turning techniques. In Hollow Turning, turners of all skill levels have the opportunity to work beside Jordan and learn all he knows about turning hollow forms. He dispels the mysteries of this art form, and shares his signature techniques.John Jordan is an internationally known woodturning and teacher who has taught in eight countries and all over the United States. Jordan's turned and textured vessels are in numerous private and corporate collections as well as many major museums, including the Renwick Gallery of the Smithsonian Institution and the Victoria & Albert Museum in London.
Topics Include:


Shear cutting to reduce or eliminate sanding
Types of tools used for hollow turning
Grain orientation
Carved decoration
Turning a small-neck bottle
Sanding & finishing
Solving common problems


| | | | |
| --- | --- | --- | --- |
| No. | Description | Price | Quantity |
| 3524 | Hollow Turning by John Jordan - DVD | $18.99 | |



With a worldwide reputation as an acknowledged master of woodturning, and work in several permanent museum collections, John Jordan has traveled much of his life to share his extraordinary turning techniques.

In Bowl Turning, turners of all skill levels have the opportunity to work beside Jordan and learn all he knows about turning both decorative and functional bowls with minimum tools and expense. Each step is explained clearly in detail and with superb close-ups.

John Jordan is an internationally known woodturner and teacher who has taught in eight countries and all
over the United States. Jordan's turned and textured vessels are in numerous private and corporate collections as well as many major museums, including the Renwick Gallery of the Smithsonian Institution and the Victoria & Albert Museum in London.

Topics Included:


Basic and advanced cuts with a deep fluted bowl gouge
Natural or bark-edged bowls
Dry versus green wood
Why green wood does not crack
Power sanding and finishing
Solving common problems
Sharpening


| | | | |
| --- | --- | --- | --- |
| No. | Description | Price | Quantity |
| 3525 | Bowl Turning by John Jordan - DVD | $18.99 | |



Benefit from more than sixty-five years of master craftsman Dennis White's woodturning experience and sheer magic. To simply watch is to learn.

Turning Bowls covers many skills in unsurpassed detail, including holding bowl discs, using screw, multi-purpose, and jam chucks, as well as producing footed bowls without screw marks. White clearly explains each skill, from early visualization of the bowl to be turned to final sealing, waxing, and polishing, and emphasizing the importance of learning correct grinding and sharpening techniques.

| | | | |
| --- | --- | --- | --- |
| No. | Description | Price | Quantity |
| 3526 | Turning Bowls by Dennis White - DVD | $18.99 | |



Benefit from more than sixty-five years of master craftsman Dennis White's woodturning experience and sheer magic. To simply watch is to learn.
Whether it is a Georgian Furniture leg or a Victorian baluster, Classic Profiles quickly outlines the setting out of the work piece -- traditionally decorated with beads, hollows, fillets, and other shapes. White clearly outlines the correct turning sequences of these processes.


| | | | |
| --- | --- | --- | --- |
| No. | Description | Price | Quantity |
| 3527 | Classic Profiles by Dennis White - DVD | $18.99 | |



Benefit from more than sixty-five years of master craftsman Dennis White's woodturning experience and sheer magic. To simply watch is to learn.
With White demonstrating many turning techniques that have nearly disappeared throughout time, Boxes, Goblets, and Screwthreads includes projects for creating two boxes and goblets, and a threading technique performed at 400 rpm with a pair of hand chasers.


| | | | |
| --- | --- | --- | --- |
| No. | Description | Price | Quantity |
| 3528 | Boxes, Goblets, and Screwthreads by Dennis White - DVD | $18.99 | |



Benefit from more than sixty-five years of master craftsman Dennis White's woodturning experience and sheer magic. To simply watch is to learn.

Starting with safety measures like protecting the eyes and lungs, and wearing sensible clothing, Turning Between Centers - The Basics progresses to basic tool use: how to shape, grind, hone, and use them with advise on correct body posture and movement. Turning the perfect basic cylinder is next, followed by cutting beads, coves, and fillets.

| | | | |
| --- | --- | --- | --- |
| No. | Description | Price | Quantity |
| 3529 | Turning Between Centers: The Basics by Dennis White - DVD | $18.99 | |



Benefit from more than sixty-five years of master craftsman Dennis White's woodturning experience and sheer magic. To simply watch is to learn.
Twists, especially double or barley, have always intrigued woodturners -- and they still do. Twists and Advanced Turning demystifies the techniques necessary to create these beautiful pieces. White explains, with great clarity, the method of turning single-tapered, double-tapered, and hollow twists.

| | | | |
| --- | --- | --- | --- |
| No. | Description | Price | Quantity |
| 3530 | Twists and Advanced Turning by Dennis White - DVD | $18.99 | |



Benefit from more than sixty-five years of master craftsman Dennis White's woodturning experience and sheer magic. To simply watch is to learn.
Share an amazing woodturning session with White as he demonstrates how to make a number of projects, including a beautiful dish with glass insert, a lighter base, and a handsome clock, before going on to more advanced projects, including a napkin ring, an egg, a ballpoint pen case, a lace bobbin, a gavel, and an entire coffee grinder. White introduces a variety of woods and techniques, as well as showing how to make a hollow chuck.


| | | | |
| --- | --- | --- | --- |
| No. | Description | Price | Quantity |
| 3531 | Novelties and Projects by Dennis White - DVD | $18.99 | |
Turn your projects into beautifully designed furniture

Now, this timeless topic can be yours on DVD! With Turning for Furniture, you can turn your ordinary projects into one-of-a-kind designs. In this classic DVD, Ernie Conover shows you how to turn a beautiful assortment of furniture components -- including decorative chair legs and bed posts, knobs, pulls, and ornaments -- and increase your project options.

You'll also learn how to:

Turn a simple chair stretcher
Make custom knobs and pulls
Turn chair legs
Duplicate parts with ease
Turn an offset foot

The next best thing to a private lesson. Turning for Furniture takes you right into expert woodworker Ernie Conover's shop for an unforgettable 55-minute lesson. You'll see firsthand exactly how to do the work -- the tools, the techniques, and the subtle rhythms of each process.

Impossible to miss a single step! Go directly to the chapter you want to watch and replay it as often as you want. Master it before you move on!

| | | | |
| --- | --- | --- | --- |
| No. | Description | Price | Quantity |
| 9815 | Turning for Furniture - DVD | $15.99 | |
Run Time: aprox. 72 minutes

As a full time professional demonstrator on one of the largest woodworking circuits in America and Canada, I hear this question over 100 times in an average weekend!  I have prepared an easy to understand How-To DVD 1 hour and 12 minutes long,  just for you. Everything you need to know to get started off right is covered including actual practice exercises. . . .

Chapter Titles include:

Tool ID and Uses, Lathe Parts, Chucks, Practice Exercises for turning coves and beads, roughing down with a spindle roughing gouge and a skew, sharpening, using a bowl gouge and two useful projects.

If you have always wanted to turn. .

If you have a teenager you want to get started right and you're not equipped to teach them yourself. . .

If you have a lathe sitting in the basement or garage just waiting for you to take a woodturning class. . . this presentation will amaze you.

If you are a "Self Taught Turner" wanting to learn more, or if you are having problems making certain cuts, if you constantly get catches, we work through all of those situations on the DVD.

If you turn pens but want to do more. . .

If you are a pretty good bowl turner, but want to learn spindle work involving beads and coves or thin spindles. . .

If you, . . . we are running out of room here to list all of the reasons you should buy this DVD. It's a great video. If you don't like it, I'll give your money back. Go ahead and order it now. You're burning daylight.

| | | | |
| --- | --- | --- | --- |
| No. | Description | Price | Quantity |
| 9527 | I Have a Wood Lathe. What Now DVD by Ron Brown | $19.99 | |
Run Time:

aprox. 48 minutes

Easy to understand How-To DVD 48 minutes long, just for you. Everything you need to know to get started off right is covered including materials, accessories, methods and finishing.

Included a PDF file with over 50 Full Sized, Fine-Line Drawings of Classic Bottle Stopper Designs. Turning the stoppers is the easy part. Coming up with good looking designs that flow well and have stunning eye appeal is the hard part. You can print out any design you like and use it right at the lathe to make a beautiful stopper.

| | | | |
| --- | --- | --- | --- |
| No. | Description | Price | Quantity |
| 9529 | Quick and Easy Bottle Stoppers & 50 Designs DVD by Ron Brown | $19.99 | |
Run Time: aprox. 52 minutes

Chapter titles:

Introduction and Gallery

Simple One Piece Tops

Chatterwork Tops

Two Piece Tops - Chuck Method

Two Piece Tops - Collet Method

Tiny Tops

Crazy Tops

Segmented Tops

includes 15 Fine Line Patterns via PDF for your PC. You can view and print designs. Enlarge or reduce patterns to make tops, plate or platter bottoms, turned box tops, or beautiful inlays. All of the samples below are included and more

| | | | |
| --- | --- | --- | --- |
| No. | Description | Price | Quantity |
| 9530 | Woodturning Tops DVD by Ron Brown | $19.99 | |
This presentation will teach you:

The one chuck box turning method.

Some of the best (easiest) ways to hollow end grain for small boxes under three inches.

How to achieve suction fitting lids.

The secrets of jamb chucking when you want to turn the underside of the lid.

How to inlay disks in a pictured framed lid.

Really enhance a simple project with chatterwork then set it off with micro groves.

On lathe instant finishing methods.

The Close Look Section lets you examine several boxes close up inside and out with incredible detail.

Ron's Photo Gallery ill give you great design ideas. You see close up still photos of gorgeous boxes, the detail is marvelous.

| | | | |
| --- | --- | --- | --- |
| No. | Description | Price | Quantity |
| 9531 | Turned Lidded Boxes DVD A Two DVD Set by Ron Brown | $24.99 | |
Run Time: aprox. 90 minutes


Fancy Christmas Ornaments The Easy Way"

These Two DVD's Will Teach You How To:

Hollow a Globe through a 1-1/4" Hole, then make the hole disappear like magic!
Turn Icicles so incredible that your friends will think you are showing off!
If you decide to do more than a few dozen ornaments, you can grind three special tools you can't buy in stores from tools you probably already have to make your work go more quickly.
Understand the secrets used to make icicles with a "Huge WOW! Factor"
Use Veneer to Picture Frame Vignettes
Make Flowers on The Drill Press and the jigs used to make them .
Custom Designs Using the "Deep Inlay Technique"

"Liquid Ebony For Wood" Recipe Included.

| | | | |
| --- | --- | --- | --- |
| No. | Description | Price | Quantity |
| 9528 | Fancy Christmas Ornaments by Ron Brown | $24.99 | |
2 DVD set on How to make items for the kitchen that your cook will love to have and will use every day. These utensils also make wonderful christmas gifts and cost nearly nothing to make.

Learn How to Make:

Wooden spatulas
Ice cream style scoops
Chili and soup ladles
Piping hot coffee scoops
Goblet scoops

| | | | |
| --- | --- | --- | --- |
| No. | Description | Price | Quantity |
| 9563 | Kitchen Utensils - From the Wood Lathe with Ron Brown | $24.99 | |
Run time 2hr-35min

As I travel around the country demonstrating at turning symposiums and woodworking shows, I always have small lidded acorn boxes on hand. I ask between $10 and $12 each and have a hard time keeping enough stock to satisfy the demand. Acorns are easy, quick and the designs seem to be infinite.



Whether you want to make them as gifts for friends and family or make them as hot selling craft fair items, you can't miss with acorn lidded boxes.

I show you how I hand chase threaded lids, get a perfect slip fit on another type and even make salt and pepper shakers stylized like acorns.  My favorite is the acorn miniature birdhouse ornament which can also double as a small gift box. I know you will be as fascinated with these small lidded boxes as I am.

| | | | |
| --- | --- | --- | --- |
| No. | Description | Price | Quantity |
| 9805 | Acrons Gone Wild - A Two DVD Set by Ron Brown | $24.99 | |
On this DVD Ron Brown will show you step by step how to make beautiful salt and pepper mills with traditional grinding shaft mechanisms. Ron uses simple to understand language along with dozens of high resolution still photos to show you the steps for making these mills.

No.
Description

Price

Quantity

4383

Ron Brown's Best
Pepper Mills Made Easy DVD (1 hour 10 min)

$19.99
On this DVD Ron Brown will show you step by step the entire process of making pens. Learn how to cut, drill, glue and shape both wood and acrylic blanks. Ron will show how to apply 3 poplar finishes including the CA Glue finish, There is a wealth of pen making information waiting for you in these two DVD video presentations.

No.
Description

Price

Quantity

4382

Ron Brown's Best Two DVD Set
Turning Pens Made Easy oduct Description (2 hour 30 min)

$21.99
This DVD is for woodturners who are just getting started and those who want to refresh their skills. In this 120 minute DVD, Jimmy covers the topics below in detail while providing detailed advice on tools, chucks and getting the best results with your tools.




| | | | |
| --- | --- | --- | --- |
| No. | Description | Price | Quantity |
| 7233 | Back To Basics DVD with JImmy Clewes | $29.99 | |
Jimmy is currently working as a freelance woodturning demonstrator and course instructor, both in the UK and internationally.

He is a regular contributor to "Woodturner" magazine, and is on the Register of Professional Woodturners.

In this video Jimmy demonstrates spindle work and tool sharpening, turns an end grain vase, colours a spectacular platter, and turns an exotic oyster box.

133 Minutes

| | | | |
| --- | --- | --- | --- |
| No. | Description | Price | Quantity |
| 7234 | Turnaround with Jimmy Clewes DVD | $24.99 | |