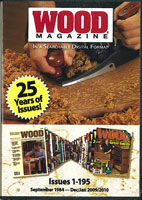 Compatible with
PC and Mac.
If you don't already have it, Adobe Reader is included on the disc for viewing.

All 195 back issues (many of them now out of print) on one disc, with a single, comprehensive, searchable index, maintaining a super-high-quality, 300-dpi resolution, ensuring you crystal-clear illustrations and photos.

DVD features:
The user-friendly index of all back issues makes it easy to find any project plan, shop tip, or skill-builder from this huge archive. Click on the indexed article and go to it instantly! Or browse through the issues using the prominent bookmarks, linked covers, and table of contents. There, too, one click takes you to the information you need.

High resolution PDF's make for easy, enjoyable reading.
View every photo, drawing, and detail in digitally reproduced, crystal clarity. Zoom in for a closer look, or print articles for use in the shop with the handy "Print this article" button.

Save hundreds of dollars versus buying back issues.
In fact, many of the most sought-after issues on this disc have been out of print for years and are no longer available in any other format.