The Ultimate Kit for Kreg Joinery™



The Kreg Jig® K5 incorporates the best features of every Kreg Jig® that came before with upgrades you've never seen. That starts with an all-new clamping mechanism that you can adjust without tools or adjusting nuts to match your work piece thickness. Just slide the clamp into place, "click" the large front-mounted clamp handle, and your jig is set to hold your work piece tight every time. Plus, you'll find large support wings to hold your work piece steady—and they have storage compartments inside. Add in a batch of other great features like a standard swiveling dust-collection port, spring-loaded stop for the Drill Guide Block, and, of course, the ability to remove the Guide Block for portable use, and you have, quite simply, the most advanced Kreg Jig® yet.



Kit Includes:

Kreg Jig® K5 Base with Ratcheting Front-Side Clamp
Extension Wings
Swiveling Dust Collection Port
Drill Guide Block
Spacer Block
Work piece Stop
Drill Bit Setup Block
Hex-Shank Stepped Drill Bit
6" Driver Bit, Stop Collar, Allen Wrench
User Guide
Starter Screw and Plug Pack,
Online Skill Builder Videos, and Downloadable Project Plans.

| | | | |
| --- | --- | --- | --- |
| No. | Description | Price | Quantity |
| 4404 | Kreg Jig K-5 System | $139.00 | |
Professional-Grade Pocket-Hole Machine at a Consumer-Friendly Price.

Built with professionals and hobbyists in mind, the all-new Foreman Pocket-Hole Machine is packed with features that will have you building with twice the speed and half the effort of a standard pocket-hole jig. The Foreman DB210 offers all of the same features and capabilities of our professional-grade machines in a machine that's versatile, portable, and extremely affordable.

The Foreman comes with a standard 3/8" Kreg stepped drill bit to get you started—for materials from 1/2"- to 11/2"-thick. It's also compatible with the Kreg Micro-Pocket™ Bit to create more compact pocket holes in thinner stock, and the Kreg HD (Heavy-Duty) Bit for creating strong joints in 11/2" and thicker stock.

One pull of the handle starts the motor, clamps your workpiece, and drills perfect pocket holes
Powerful 110-volt motor
Comes with standard Kreg 3/8" stepped drill bit
Works with materials from 1/2"- to 11/2"-thick
Adjustable fence to position workpiece for precise pocket depth
Two spring-loaded stops for repeatable accuracy
Clear markings in the table that make it easy to position the fence
Compatible with the Kreg Micro-Pocket™ Bit and Kreg Heavy-Duty Bit
Lightweight (20 lbs.) yet durable construction
Large table with ample workspace
Built-in storage tray and dust collection attachment

Item#
Description
Price
Quantity
9223

Kreg Foreman Pocket Hole Machine DB210

$399.00
This is a Pre-Order sale only. The Kreg Foreman Machine will not ship until on or about the first week of August, 2014. The actual date of arrival may vary depending on volume of orders and avallablilty. Special Notice:

Credit card will not be charged until date of shipment.








The Kreg Jig® Master System is the ultimate Pocket-Hole Jig on the market, and a great choice for any woodworking enthusiast. Between its solid clamp, large clamping recess, Dust-Collection Attachment, Material Support Stop, removable 3-Hole Drill Guide, and seemingly endless adjustability, this jig truly has it all! If you're serious about Kreg Joinery™, and even more serious about owning the highest quality tools, look no further than the Kreg Jig® Master System.

Kit Includes:

Kreg Jig®
Face Clamp™
Portable Base
Material Support Stop
Dust Collection Attachment
Steeped Drill Bit with Depth Collar
6" Square Driver Bit
3" Square Driver Bit
Starter Screw Set
Starter Plug Set
Skill Builder™ DVD
Quick-Start Guide
Carring Case

| | | | |
| --- | --- | --- | --- |
| No. | Description | Price | Quantity |
| 8934 | K-4 Kreg Jig® Master System | $139.99 | |



The Kreg Jig® can help you finish the job in less time, and with far less effort than you ever thought possible. Its simple design gives you the confidence to start the project, and with joints as easy as "Drill. Drive. Done!" – you'll actually want to finish it. Includes: Kreg Jig®, Stepped Drill Bit, 6" Square Driver, Starter Screw Set, Starter Plug Set, Skill Builder™ DVD, and Quick-Start Guide, all inside a compact and durable carrying case.

Kit Includes:

Kreg Jig
Stepped Drill Bit
6" Square Driver Bit
Starter Screw set
Starter Plug Set
Skill Builder™ DVD
Quick- Start Guide
Carrying Case


| | | | |
| --- | --- | --- | --- |
| No. | Description | Price | Quantity |
| 3251 | Kreg Jig K4 | $99.99 | |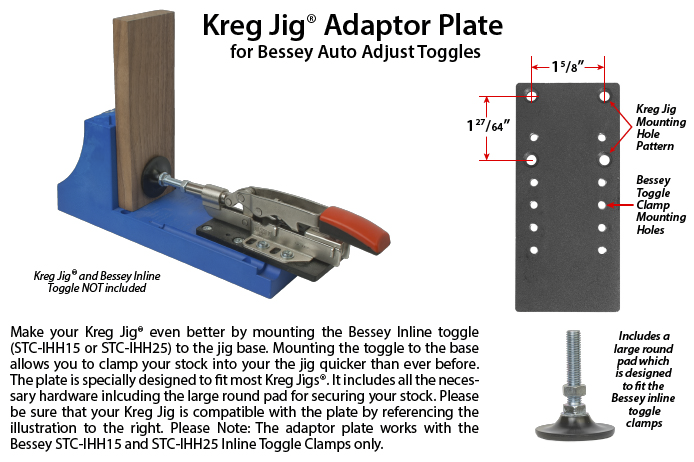 | | | | |
| --- | --- | --- | --- |
| No. | Description | Price | Quantity |
| 3277 | Bessey Auto Adjust Toggle Clamp to Kreg Jig Adapter Plate | $10.99 | |




With the Kreg Deck Jig and a few simple tools you already own, you can create a beautiful and functional deck surface, completely free of exposed fasteners and painful splinters! The Kreg Deck Jig creates an incredibly strong wood-to-wood bond through precisely placed self-tapping screws. Works great with composite deck boards and ACQ treated lumber. Also works with native softwoods such as redwood, cedar and pressure-treated pine. Even works with certain tropical hardwoods like ipe, red balau, and ironwood. Easy-grip handle gives you a secure hold and complete control over each and every joint. Hardened steel drill guides keep special stepped bit and driver bit at precise, optimal angle. Three separate drill guides let you install deck boards in a variety of hard-to-reach areas. Handy spacer rings ensure accurate deck board spacing for proper drainage and longer deck life.

Deck Jig System includes:

1 ea. Deck Jig™
1 ea. 6" Deck Jig Drill Bit w/ Stop Collar
1 ea. 6" KTX Square Driver Bit w/ Stop Collar
3 ea. 5/16" Spacer Rings
3 ea. 1/4" Spacer Rings
100 ea. Protec-Kote™ Deck Screws
1 ea. Allen Wrench
1 ea. Instructional DVD
1 ea. Durable Carrying Case




| | | | |
| --- | --- | --- | --- |
| No. | Description | Price | Quantity |
| 8915 | KREG KJDECKSYS Deck Jig | $79.99 | |
| 8917 | Kreg® Protec-Kote™ Deck Screws (100 pack) | $7.99 | |
| 8918 | Kreg® Protec-Kote™ Deck Screws (700 pack) | $49.99 | |
| 8919 | Kreg® Stainless Deck Screws (100 pack) | $17.99 | |
| 8920 | Kreg® Stainless Deck Screws (700 pack) | $109.99 | |
| 8953 | Kreg® Deck Driver Bit with Depth Stop and Allen wrench | $4.99 | |



Pneumatic Foreman:

Got air? This Foreman features an industrial grade 3/4 hp pneumatic motor capable of the same Pocket-Hole power as the electric version when coupled with an air compressor capable of producing 6 cfm at 120 psi.

If your production needs have outpaced our manual jigs, but you're not quite ready for a heavy-duty production machine, the Foreman is just what the contractor ordered. It features single-step one handed operation for simplicity and speed, swing stops for production repeatability, and a durable design which is perfect for any jobsite or small shop. Works with stock from 1/2" to 1-1/2" thick.

No.
Description

Price

Quantity

9191

Kreg Pneumatic Foreman Pocket-Hole Machine
Semi-Automatic

$799.99

Call For Shipping Quote
Phone Order Only
1.888.512.9069
This handy Kreg Jig® accessory can be positioned any distance from your Kreg Jig® to repeat the same Pocket-Hole over and over again. The stop can also be swung out of the way to serve as a support for large panels.

| | | | |
| --- | --- | --- | --- |
| No. | Description | Price | Quantity |
| 8996 | Kreg Material Support Stop | $9.99 | |
Bigger bit, bigger holes, bigger screws, and of course… bigger projects. Introducing the all-new Kreg Jig® HD – delivering the strength and confidence you need to BUILD BIG!

Designed with the same tried-and-true efficient design and hardened steel drill guides as the original Kreg Jig®, the all-new Kreg Jig® HD lets you drills holes which are 25% larger, and joints that are an amazing 50% stronger than traditional Kreg Joints™!



50% stronger than standard pocket-holes 
Optimized for large outdoor projects 
For use with 1 ½" materials and up 
Works with the K3 & K4 Kreg Jig® and Kreg Jig® Master System 
Stop Block provides easy, repeatable registration to work piece 
Face Clamp locks into Kreg Jig® HD for secure drilling 
Hex-Shank HD Drill Bit is Quick Change compatible

| | | | |
| --- | --- | --- | --- |
| No. | Description | Price | Quantity |
| 8998 | Kreg Jig® HD | $59.99 | |
| 8999 | Kreg Jig® HD Drill Bit | $19.99 | |
| 9000 | Kreg Jig® HD Driver | $6.99 | |
| 9001 | Kreg Jig® HD Se crews #14 x 2-1/2" 30 ct | $4.99 | |
| 9002 | Kreg Jig® HD Screws #14 x 2-1/2" 125 ct | $19.99 | |



The single-drill guide Mini Kreg Jig™ Kit is Kreg's most positionable pocket hole tool. The jig is designed to be clamped at virtually any angle to the edge of the work piece, giving you total flexibility.

| | | | |
| --- | --- | --- | --- |
| No. | Description | Price | Quantity |
| 1484 | Kreg Mini Jig Kit w/drill bit adjustable stop and allen wrench | $21.99 | |
| 1470 | Kreg Mini Jig Only (No Drill Bit or Stop) | $9.99 | |



With a 25% smaller hole diameter, the Micro Pocket™
Drill Guide from Kreg® lets you create more compact,
low-profile pocketholes in the same joinery applications,
but also tackle smaller projects, thinner stock and
tighter repair applications, where standard pocketholes simply can not go. Designed for use with the Kreg Jig® or the Kreg Jig® Master System. This unit features a black color to differentiate it from the standard drill guide blue color.


| | | | |
| --- | --- | --- | --- |
| No. | Description | Price | Quantity |
| 1462 | Kreg Micro Pocket Drill Guide | $44.99 | |
| 1779 | Step Drill Bit For Micro Pocket Drill Guide | $16.99 | |



Accelerate your learning woodworking process with one of Kreg's® pocket hole instructional videos. The Pocket Hole
Solution series features TV personality John Sillaots as he leads you through the various steps needed to build your
own custom projects. From cabinets, coffee tables, moldings, trim carpentry, to building your own router table, pocket hole joinery provides a fast, strong and simple approach to tackling your next woodworking project with greatest of confidence.


| | | | |
| --- | --- | --- | --- |
| No. | Description | Price | Quantity |
| 3200 | Kreg Cabinet Making DVD | $9.99 | |
| 3198 | Kreg Tables DVD | $9.99 | |
| 3199 | Kreg Router Tables DVD | $9.99 | |
| 3197 | Kreg Trim Carpentry DVD | $9.99 | |
| 3313 | All 4 Kreg DvD's Deluxe Video Pack | $35.99 | |



D.I.Yers, This is the Pocket Hole JIg for you.

Model #R3

9 Position Settings
Wood Chip Relief Holes
Clamp Adapter
Organized Carrying Case
Hardened steel drill guides with lifetime warranty

The Perfect Pocket Hole Jig for the Do-It-Yourselfer NOW AVAILABLE!

If you're ready to start your next woodworking or home improvement project, the R3 Kreg Jig® is the tool for you. We've loaded this jig with a ton of features that allow you to put projects together more quickly than ever before. Whether you're looking to build that bookcase for your home office, cabinets for the kitchen, plant stand for the deck, or simple storage shelves for your garage, this is the tool that will allow you to build like a professional and be the envy of your neighborhood.

| | | | |
| --- | --- | --- | --- |
| No. | Description | Price | Quantity |
| 3216 | Kreg Jig R3 Pocket Hole Jig | $39.99 | |
Pocket Hole Joinery has been in the woodworking industry for over 20 years. Pocket hole joints are amazingly fast, incredibly strong and have hundreds of applications. The 3 - in- 1 Pocket Cutter from Sommerfeld's goes back to the basics - back to heavy duty construction - back to simple functionality! This Jig can be used by beginners or professionals alike. With the large powerful toggle clamp, placing and holding your stock firmly in position couldn't be easier. The Jig also comes with two separate drill guides that can be easily swapped out for different thickness of stock - the small guide works with 3/4" stock and the large guide works with 1-1/2" stock. Each guide has hardened steel bushing with a lifetime warranty against wearing. Each drill guide incorporates a rare earth magnet for attaching the drill guide to a clamp for portable pocket hole joinery. 6" Face frame clamp included.


| | | | |
| --- | --- | --- | --- |
| No. | Description | Price | Quantity |
| 3401 | Sommerfeld's The 3 - in - 1 Pocket Cutter | $99.99 | |



Pocket Hole Guide
Perfect for those "do-it-yourselfer" customers who wish to build kitchen cabinets, Steelex® offers the face frame pocket hole guide. This handy jig allows precisely angled holes ready for the screws that will hold face frame parts together.

(Drill bit, stop collar and #2 driver not included)

| | | | |
| --- | --- | --- | --- |
| No. | Description | Price | Quantity |
| 1458 | Steelex Pocket Hole Jig | $14.99 | |
| 1461 | Pocket Hole Jig Step Drill Bit and Stop Collar | $12.99 | |
The E-Z Pocket Hole Jig Kit! Before embarking upon your next project, be sure to grab one of Generals E-Z Pocket Hole Jig Kits. The innovative design allows you to create three popular types of pocket hole joints with accuracy and relative ease. Made of heavy duty aluminum, the Jig can be mounted to a bench for stationary use and also includes a clamping system for when portability is desired. A great choice for building cabinets, furniture or other high precision woodworking endeavors. Includes free DIY project plans!

| | | | |
| --- | --- | --- | --- |
| No. | Description | Price | Quantity |
| 20863 | | $42.99 | |
This new jig kit enables woodworkers to quickly produce sturdy, attractive pocket hole joints in three types: flush, corner and angle. The included Pocket Hole Jig features a tri-lobe knob for easier tightening and improved clamping torque. By drilling steeply pitched counterbores in one joint member, users can drive self-tapping screws into the other joint member without pilot holes. A hard, molded carrying case safely and securely stores the jig and all of the included accessories. The jig is ideal for making leg and rail joints, table and leg joints, cabinets and picture frames. It comes complete with:

3/8 in. Step Drill Bit with Drill Stop
6 in. Steel Square Drive Bit
Hex Wrench
24 Fine Square Drive Screws
24 Coarse Square Drive Screws
24 3/8" Wooden Pocket Hole Plugs
Storage Box

| | | | |
| --- | --- | --- | --- |
| No. | Description | Price | Quantity |
| 20864 | E-Z Pro Deluxe Pocket Hole Jig Kit #850 | $49.99 | |