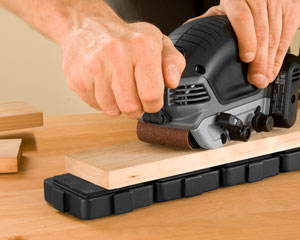 Loc-Blocks™ make woodworking easy again by gripping both your work surface as well as your project without the use of any clamps. Perfect for sanding, drilling, routing, finishing and a whole lot more.  Loc-Blocks™ also function as a project support by elevating your work, which provides easy access to every edge. What makes them work? Anti-vibration, non-slip rubber pads on both the top and bottom of the blocks. Our unique design allows the blocks to be placed at each of the corners of your material or they can be connected together by their interlocking dovetails.  Customize the layout of the blocks for your project - connect them together to create a straight, sturdy base for working narrow stock, or you can configure them to form a full 6¾" x 6¾" block for smaller projects. A must have for any size workshop.
Configure into squares for smaller projects.
Place the blocks at the four corners of your material.
Configure in a line for narrow material.
Configure in an "L" for irregular shaped material.