The Earlex Spray Station is truly the modern way to paint and achieve a professional finish every time. The easy-to-use, quick clean-up system won't clog and has low overspray for virtually no waste. It works for interior and exterior projects, detail projects, fine woodworking projects and much more.
The Spray Station 3500 is the ideal homeowner/DIY system for multiple tasks and fine finishing. This multi-purpose sprayer works great with a variety of materials for a large range of projects.
 
The 3500 can be used indoors to maintain walls, ceilings, trim work, cabinets and furniture. Take the 3500 outside to maintain fences, decking, shutters, garden furniture, sheds, cabins and a variety of arts and craft projects. The Spray Station 3500 can even achieve a mirror-like quality finish for that woodworking project.
 
The NEW expert spray gun provides the user with ultimate control and little overspray. Enjoy the fast 3 pattern changing system, thumb control paint flow dial, 1 qt wide mouth paint container, angled pick-up tube for overhead or downward spraying and the front loading needles make changing needles fast and cleaning easier.
 
You'll remain in constant control, get a great finish, make your materials go even further and clean-up is faster that a brush or roller with the Spray Station 3500.


| | | | |
| --- | --- | --- | --- |
| No. | Description | Price | Quantity |
| 10451 | Earlex HV3500 Spray Station | $149.99 | |
| 10457 | Earlex Spray Gun Cleaning Kit | $14.99 | |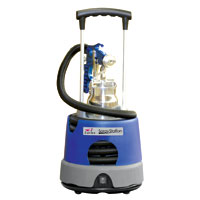 The Spray Station 5500 is a professional unit designed for light contractor, occasional maintenance, woodworker and serious DIY enthusiast. The Spray Station 5500 is ideal for use in the workshop, garden or home. Water-based and oil-based coatings can be applied with the Earlex HV5500 Spray Station
This model is supplied with onboard storage for spray gun, long carry handle for easy portability, spray gun cleaning kit and 1 quart pro-gun with PTFE-coated paint container which is easy to clean, long lasting and non-corrosive.
Ideal for spraying walls, ceilings, doors, fences, shutters, cabinetry, spindles, iron work, sheds, decking, furniture and cars
Easy to clean PTFE-coated paint container with quick release lever
13 ft air hose
5.5 ft power cord
Can spray a wide variety of materials
Sprays as fine as 1 inch/2.5cm
Fitted with variable output control
Press and twist aircap for faster spray pattern adjustment
Optional needle sets
Technical Specs
1 quart capacity
Turbine motor
Neon on/off switch
Kit includes: turbine unit, onboard storage pod, onboard hose and power cord storage, 1 quart PTFE-coated paint container with metal spray gun and stainless steel needle, viscosity cup, long carry handle
| | | | |
| --- | --- | --- | --- |
| No. | Description | Price | Quantity |
| 10452 | Earlex HV5500 Spray Station | $319.00 | |
| 10454 | 1.0 mm Stainless Steel Needle for HVLP HV5500 & HVLP 6900 Part # HV5ACC10USR - Needle Tip Size 1.0 mm (0.04 in.) | $49.99 | |
| 10455 | 1.5 mm Stainless Steel Needle for HVLP HV5500 & HVLP 6900 Part # HV5ACC15USR -Needle Tip Size 1.5 mm (0.06 in.) | $49.99 | |
| 10456 | 2.5 mm Stainless Steel Needle for HVLP HV5500 & HVLP 6900 Part # HV5ACC25USR - Needle Tip Size 2.5 mm (0.10 in.) | $49.99 | |
| 10457 | Earlex Spray Gun Cleaning Kit | $14.99 | |

The SprayStation Gemini uses innovative new technology with a powerful turbine and pump designed for speed and precision. The gun comes with two different settings to cater for every painting need. The first is a tube connector to allow a direct feed from the paint tin, allowing for an unbelievably fast finish for larger tasks with minimal overspray. The second gun setting is a 1 litre paint pot that provides a controlled professional result for those smaller, more intricate jobs.This system makes light work out of any task and is the perfect painting partner.

• Sprays latex paint direct from the can without thinning.
• Easy setup, Use and Clean Up.
• Sprays 3x faster than traditional HVLP systems and 10x faster than a brush or roller.

Technical Specs

600W 2 stage turbine
13ft air hose and paint tube
5 speed pump allows for adjusting flow of paint
Holds 1 gallon paint can or 2.5 gallons in the bucket
1qt. wide-mouth paint container with lid for smaller projects
Includes 2.0mm (0.08") brass tip and needle
1" - 17" spray pattern
Can spray latex in an 8' x 8' area in 6 minutes
Can spray stain in an 8' x 6' area in 2 minute

Features

Maximum control and minimal overspray
Twin Technology HVLP and pump assisted
Fast high quality results for large area's
Provides a fine finish for intricate jobs
Sprays direct from a one gallon paint can without thinning
External three spray pattern adjuster for horizontal, vertical and detailed patterns
Thumb control paint flow dial for spray volume control
Easy push fit hose connections
On board storage for hose and spray gun
Carry handle for easy portability
Front loading needles for fast changing and easy cleaning
Comfort grip handle and trigger
Hanging hook

| | | | |
| --- | --- | --- | --- |
| No. | Description | Price | Quantity |
| 10465 | Earlex GEMINI Spray Station | $269.99 | |
The 6000 series is designed to suit the experienced woodworker, small paint or finishing shop and professional for occasional on-site use. Pro 8 gun (either pressure or gravity feed), 25' Hyperflex hose and 2.5mm needle are included. With a 3-stage turbine, is a step up in power and performance. The SprayPort 6003
turbine has greater air pressure and increased air flow of 12% (compared to smaller Earlex SprayPort models) at the gun improved atomization of thin or thicker coatings. Increased production speeds are enhanced by the exclusive Wide Spray Air Cap on the spray gun.

Die-Cast Alloy, Non Bleed Gun with 2 stage trigger action with Top & Bottom Feed

Non-bleed gun and ergonomic stay cool handle attached to a lightweight HyperFlex hose

Fluid Adjuster and 360-degree Spray Pattern Rotation

Wide spray air nozzle - the only HVLP with wide spray!

Quick Connect coupler to hose and precision pattern control adjuster - Retractable swivel arm with locating aperture for convenient gun storage

| | | | |
| --- | --- | --- | --- |
| No. | Description | Price | Quantity |
| 10453 | Earlex SprayPort 6003 | $499.99 | |
| 10457 | Earlex Spray Gun Cleaning Kit | $14.99 | |
Stain, paint, shellac and more with professional result! The Summit™ HVLP Finishing Sprayer has a lightweight 400 watt motor with an easy to clean sprayer. The unit allows you to finish your work in a fraction of the time than using a typical paint brush or spray can. It's perfect for smaller finishing projects like boxes, bowls, cabinet doors, cabinet drawers and more. HVLP (High Volume Low Pressure) air flow allows you to apply your finish quicker, more evenly and without the annoying drips and the mess of standard brush, roller or sprayer. Included in this system is 1 each spray gun, 1 each paint or stain container (holds 1 pint of paint or stain), 1 each 1mm fine spray needle, 1 each 400 watt HVLP turbine motor and 1 each 9 foot long hose.

| | | | |
| --- | --- | --- | --- |
| No. | Description | Price | Quantity |
| 10462 | Summit HVLP Finishing Sprayer | $119.99 | |
| 10463 | 1.8mm spray needle tip | $4.99 | |
| 10464 | Air filter for Summit HVLP Finishing Sprayer | $2.99 | |
Kleen-Again easily and safely removes wet or hardened oil and latex paints, stains, urethanes, varnishes and enamels from brushes and spray guns. Made from soybeans, Kleen-Again is biodegradable, environmentally friendly and cleans without the odors associated with traditional brush and gun cleaners.




| | | | |
| --- | --- | --- | --- |
| No. | Description | Price | Quantity |
| 21051 | Franmar Kleen Again™ Brush & Spray Gun Cleaner Quart KAQTWD | $19.95 | |