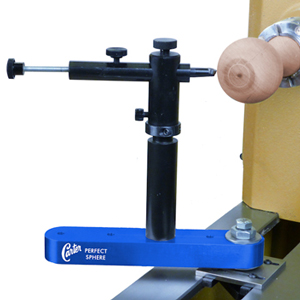 Click on image below for larger view.

Have you ever wanted to turn a sphere, but just couldn't get it perfect? Now you can turn that round vase, baseball, basketball or any other sphere shape you can dream up. The patent pending Perfect Sphere™ Tool is a sphere and concave turning system adaptable to most lathes on the market. The heavy duty construction and flexible configuration allow you to turn spheres from 1" to 14" in diameter on most lathes from 10" to 25". A Hunter Tool #4 carbide cutter provided with each system enables the tool a to cut the material versus a standard scraper which provides for a smooth cut and long lasting cutter head. The system comes with an adjustable mounting base that accommodates most lathe bed widths. The only part that is lathe specific is the riser post which is available to fit lathes from 10" to 24/25".
Note: Finished wood projects not included.